I like to watch a lot of TED talks while I work. The TV sometimes gets too repetitive for me, and I like to learn stuff while I stuff envelopes with buttons, stickers, and glitter. The other day, I stumbled upon this talk by
Jessi Arrington
on wearing nothing new, ie, buying everything second-hand and her outlook on feeling good in your own personal style. Give it a look! (it's fairly short)
I don't know how I went through this far having a style blog and not knowing about this lady. How cool is she?! Not only does Jessi look freakin adorable in everything, but she makes so many good points, and has been re-iterating what I've been telling myself for years. I keep on saying that I should go thrifting more often instead of buying new things. Sometimes it feels kind of wasteful to me. Don't get me wrong, I'm not sure if I'll ever be able to quit my H&M and Modcloth cold turkey (and I don't think I would want to, mad respect for this lady) however, I always feel so much more accomplished and socially conscious with a bag full of clothing that got their second chance with me. But I won't get too preachy on you, though I have a feeling I may be preaching to the choir.
What I love most about this little speech is her focus on self confidence and being able to "rock" anything, as long as you feel great in your clothes. So why not have fun with that notion and so to a flea market or thrift store and go for a treasure hunt for your new favorite outfit that makes you feel amazing? It's good for the earth and cheap, and in my opinion way more fun than the mall. It's a win win. And as she illustrated, you can find some real cool and unique stuff.
I'd also thought I would share with you a little collage of my favorite outfits that feature second hand items from this blog!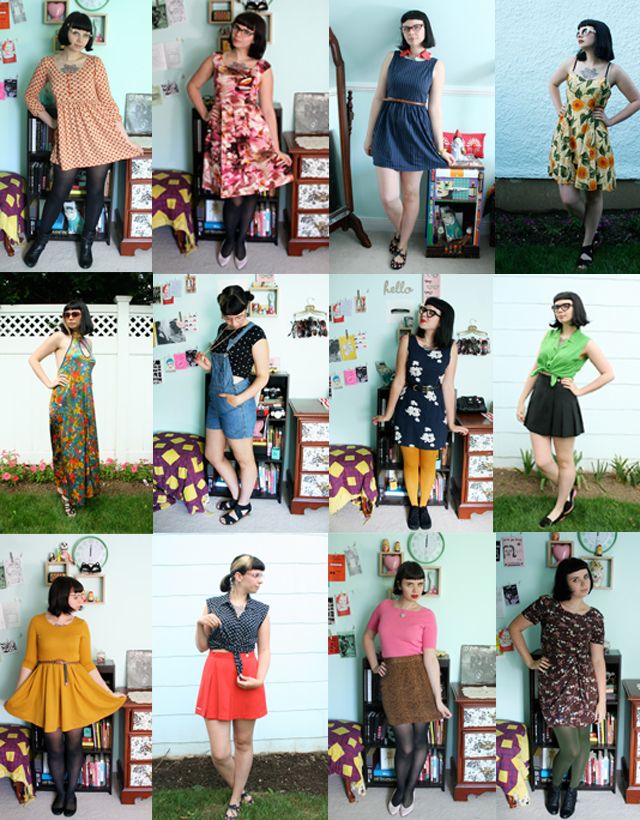 You definitely won't sacrifice looking cute buying second hand, but if anything you'll gain a sense of adventure, learn some somethings about your own personal style with experimenting with some "out-there" pieces, and of course some precious coins.
Now I really wanna go thrifting.
You can check out Jessi's blog at
luckysoandso.com
!
Love,
Midge